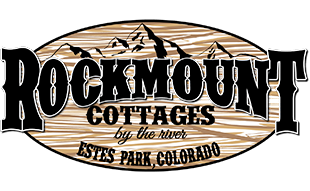 Welcome!
Rockmount Cottages is a 20 cottage/cabin resort located just one mile from the south entrance to Rocky Mountain National Park and two miles from downtown Estes Park, Colorado.
By mandate from the town of Estes Park as well as Larimer County, we must close from March 23rd through April 17th, 2020. We will be monitoring and returning phone calls, phone messages and emails Monday through Friday from 10am to 12noon (MTZ). We are very sorry for the inconvenience but we are all in this together and are hopeful  that this will slow the spread of COVID-19.  We hope to see you all after April 17th!  Be safe and healthy!
A half mile of the Big Thompson River runs through our spacious 15 acre resort. Bring your fishing gear or have a picnic by the crystal clear water.
Rockmount Cottages have been designed to balance a rustic "Lodge Look" with kitchens and baths to make life easy and comfortable during your stay.
Each cottage/cabin has a 40″ flat screen television, DirecTV, dvd player, wireless internet, and an outdoor charcoal grill/picnic area. Kitchens are furnished with all dinnerware, utensils, and appliances including a coffee maker, toaster, microwave, stove/oven.
All cottages / cabins are "housekeeping cabins".  You "keep house" during your stay; maid service is not provided.
Cottages/cabins are finished in knotty pine and most have stone fireplaces for warm, cozy evenings around the fire.
Pets are NOT ALLOWED on Rockmount Property.
You will thoroughly enjoy our immaculate and well maintained cottages and grounds.
*Gift Certificates are available for all occasions in any monetary amount.